Cleveland, OH – May 4, 2023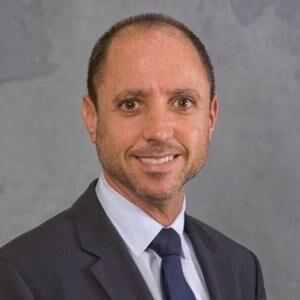 Richard Uria has been named as the president and head of business development at orthobrain, a Richfield-based company that was created in 2016 by Dr. Dan German.
orthobrain, designed to fill the gap in orthodontic care by integrating itself into the practice of general dentists, giving patients access to orthodontists when it might not otherwise be available, is also the maker of aligner brand SimplyClear. German launched the business when he and his family moved from Dayton to Beachwood around the same time.
But how the two business leaders became co-workers is a story that touches on how small the world is, Richard Uria told the Cleveland Jewish News. The Beachwood resident and his wife, Beverley. They have three kids and attend Solon Chabad. He was most recently the director of sales for Northwest Hardwoods, the largest producer of American hardwoods, Uria said.
"It's a long story, and a very small world. Dr. German actually lectured my brother in South Africa in the 1990s, and then again in Sydney, Australia in 2016," Uria recalled. "He told my brother he was planning to move to Cleveland from Dayton. My brother said he had a brother who lived on Woodside Lane (in Beachwood). Dan told him he had just bought a house on Woodside."
While German no longer lives there, Uria said German "explained his vision for creating beautiful smiles for patients through orthodontic practices."
"I had always been intrigued by what the company was doing in the industry and what they're providing to patients in terms of access and affordable options to life-changing smiles," he said, adding German then approached him earlier this year to join the company as president. "I was very humbled and excited by the opportunity. orthobrain identified a big need over the years in dentistry and orthodontics, and it has created a solution that really helps patients globally."
German told the CJN that the prospect of adding Uria to the orthobrain leadership team had "a lot of appeal."
German and his wife, Teri, have seven children. They attend services throughout the Cleveland Jewish community, including at Beachwood Kehilla, Chabad of Cleveland, Young Israel, Jewish Family Experience and Green Road Synagogue.
"I am an orthodontist and educator, that is my background and area of expertise," he said. "Being fair and not being too modest, I've had success at building companies. But I am not a business expert. Richard is. He has a legendary reputation when it comes to his business acumen. And it's not a shrewd one, his reputation is so well deserved."
German added he sees Uria's passion for tikkun olam, or repairing the world, as another asset to the business.
"My wife and I are like that, and so are Richard and Beverley," German said. "You see them often leading some amazing cause. Given that we had that in common, it was natural for him to take that passion and put it into our company."
Speaking of his past professional experiences and community involvement, Uria said a lot of it has to do with relationships and leadership, which often go hand-in-hand.
"Learning and listening to others has always been a key part of my success and journey," he said. "I've always been told to lead by example and create a culture of collaboration, accountability and continuous community engagement. I was with my previous company for 21 years and it was very hard for me to walk away. Your colleagues become your family, but my goal with orthobrain is to communicate the value I brought to my previous company and project that to the orthobrain team."
That integration into the orthobrain team has already begun, German said.
"I've had about a couple hundred people work with me in my companies, and I've never had a leader come in and receive universal respect from the team as quickly as he did," German said. "Richard has this uncanny ability to make sure people realize he's hearing them and that they're appreciated. His listening skills and humble confidence really drive that."
And having someone like Uria on the team only elevates what orthobrain can accomplish in the future, German added.
"He knows how to take something and have it become an industry leader," he said. "I don't think I would be able to do that without him. As for getting our message out, he's a fire-breathing evangelist. He believes in the 'why' – that what we do helps people."
About orthobrain®
orthobrain®, founded by Dr. Dan German, was established to provide orthodontic options to dentists looking to offer orthodontic services to patients. orthobrain® is a proven dental practice growth system that makes integrating orthodontics easy and profitable with a total solution that combines digital technology, proprietary AI and learning systems with the expertise of orthodontists. Today, orthobrain® makes orthodontic care – and beautiful smiles – available to patients everywhere at a scale never before possible. Visit orthobrain.com for more information.