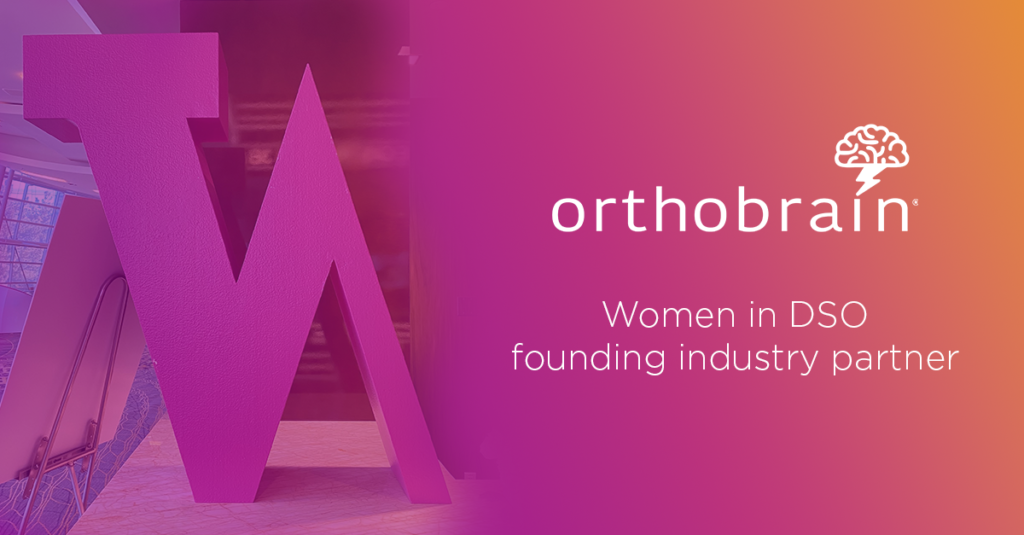 orthobrain, a founding partner of Women in DSO, joined the inaugural WinDSO Empower and Grow conference that took place March 9 – 11 in Las Vegas, Nevada. The energy and participation at the show was palpable, with a fantastic foundation set for next year's event.
orthobrain's Executive Vice President and Chief Operating Officer, Kimberly Harrington, participated in the "Lessons in Leadership from Women CEOs" panel moderated by Geoffrey Ligibel of 42 North Dental. The panelists (Kimberly Harrington, Nancy Coy of Choice Payment Services, Eva Sadej of MedBar, and Dr. Maryam Beyramian of Westwind Integrated Health) spoke to the female leaders of today and tomorrow in an overflowing room. 
In case you missed it, here were four key takeaways from the event:
Develop yourself professionally
.
Education doesn't end once you receive your degree. To be a great leader in the dental field, really any field, we need to "be sponges." Continue to educate ourselves – keep reading and learning, teach ourselves new skills or refine existing ones, and stay up to date with industry trends. It is important to continue improving and contributing to our personal brands.
Find a mentor and also be a Mentor
.
When seeking out mentors, it is important to seek out those we admire and respect. Someone who can share their experience and lessons learned – their tips and tricks to navigate an often times male-dominated industry. But just as important as finding a mentor is BEING a mentor. It is important we pay it forward to individuals entering the industry or business arena. While we should make a concerted effort to share our knowledge to help lift up our mentees, it is important for us to listen too. "I have learned so much from the young people I mentored. Those relationships have made me a more well-rounded and empathetic leader," says Kimberly Harrington.
Think beyond your own successes.
Great leaders do not just think about their own accomplishments; they concentrate on making sure the people on their team succeed as well. They get to know their employees on a personal and professional level, and learn their goals and ambitions. True leaders provide pathways to success, whether it be through access to extra training or time off to volunteer in their community. A company's success is not always just measured in financial terms – it's also judged on things like culture, inclusivity and growth opportunities.
Kimberly Harrington pointed out while on stage, "I am on the main stage today, but I always tell my team that it is not my job to be here. It is my job to get them on the main stage. It is my job to empower them as leaders and support them through that personal and professional growth."
Play the long game.
Instant gratification is given so much weight in today's world. And often, we feel pressure to have success immediately, or to give up our weekend in order to enter the work week feeling confident. But, sometimes, our personal relationships suffer, when we put all our focus on work.
As Kimberly reminded the audience: "If it doesn't happen on Monday, don't panic. There is always Tuesday."