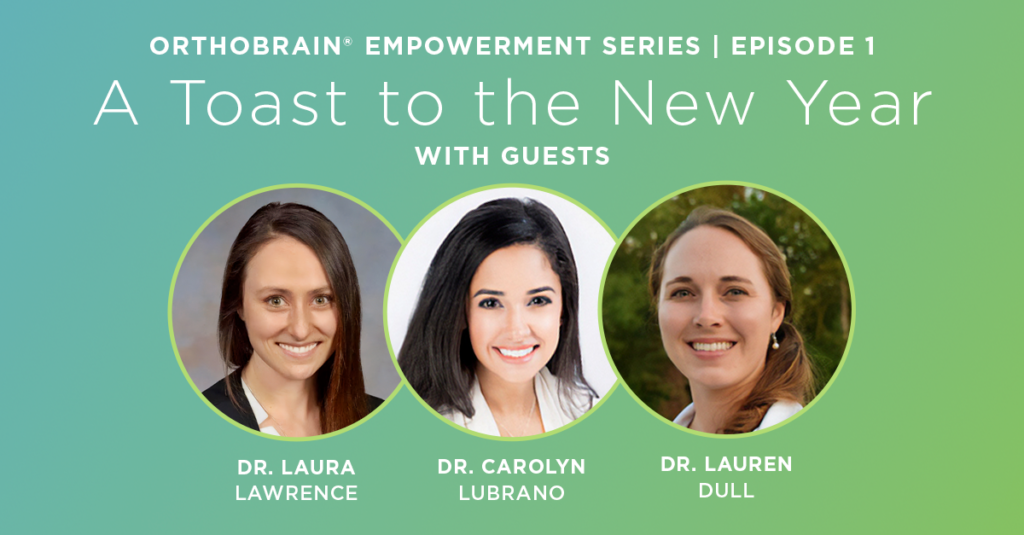 orthobrain In Case You Missed It: A Toast to the New Year
During the past few decades, there has been a significant increase in the number of women entering dentistry.  According to the ADA Health Policy Institute (HPI) analysis published last year, 34.5% of dentists in the US are female as of 2020, compared to just 24.1% in 2010.
Additionally, 50.6% of new dental grads are female as of 2019, compared to 46% in 2009.
The future is female, and it helps to hear from other strong female leaders in the dental industry about their tips for success.
In the first installment of orthobrain®'s new empowerment series, where we host authentic and informative conversations to empower doctors and dental professionals to excel in the industry, we talked to three seasoned female dental professionals:  Dr. Laura Lawrence, a general dentist practicing in Ohio, Dr. Carolyn Lubrano, a pediatric dentist practicing in Massachusetts, and Dr. Lauren Dull, a general dentist practicing in Ohio, about ways to stand out, grow your business, and excel as a female practitioner.
Here are their top three takeaways on dental practice growth and how to succeed in the industry.
1. Develop a Niche
As a new dentist, especially a new female dentist, it can be hard to establish yourself — particularly if you are joining a practice with more seasoned dentists. One way to stand out and get referrals from other dentists and patients is to find a niche. One way to do that: follow your curiosity.
Dr. Lawrence, for instance, was very interested in preventative dentistry: focusing on helping patients avoid cavities, not just treating them. She delved into research and became the go-to wellness expert on the subject of prevention in her office, which helped both her confidence and her dental practice grow.
Similarly, Dr. Lubrano, who holds a master's degree in public health, became very interested in lip tie pediatric laser surgery when she saw how frustrated new mothers were getting, when their infants' lip ties prevented them from being able to latch and breastfeed easily. Many other doctors and dentists were not addressing the issue at the time. So she sought out extra training in lip tie release and now the service makes up a significant part of her practice. Her advice to other young practitioners: "Don't be afraid to go outside the line."
2. Take advantage of the digital revolution in dentistry.
One way to see faster growth in your practice is to invest in tele-education and AI-powered imaging technology. "The new technology can make life easier and faster," says Dr. Dull, who had access to top-tier imaging software when she was working with the Air Force.
Not only can new AI powered software help you make sense of data quickly and efficiently, it's also less painful for your clients. Ever since Dr. Lawrence' s practice invested in intraoral scanners, for instance, they've seen faster turnover times in chairs. And Dr. Lubrano started seeing less tears from her young patients when she started integrating intraoral scanners, as well. "My patients are more compliant. It's just a wand that I'm putting over their teeth. Parents are wowed by it," Dr. Lubrano says.
And taking advantage of teledentistry and tele-education is a great way to grow your practice, as well.  Services like orthobrain®, which use a groundbreaking technology platform to put a virtual orthodontist beside every dental chair, ensures that you never have to feel alone, while adapting new skills and growing your practice. As Dr. Dull says: In order to grow as a practitioner, you "need to be open to learning as much as you can."
3. Find mentors in different places.
To work through issues and receive advice on advancement, nothing beats having a peer or advisor to turn to. Mentors can be found in all sorts of places. Dr. Dull, for instance, joined her local dental society in order to access a network of peers, while Dr. Lubrano counts her former high school music teacher as one of her strongest mentors. And Dr. Lawrence, for her part, says it was her college chemistry professor who offered her the most impactful lesson of her young adult life when she was deciding whether or not to take a non-dental related internship in Alaska. "She said if you are offered a golden egg, you should take it," Dr. Lawrence recalls. Looking for that next golden egg has since become a mantra of Dr. Lawrence's practice.
So how do you find a mentor? "Anyone can be one," Dr. Lubrano says. You just need to know what sort of advice you're looking for, and then reach out. The most successful dentists find mentors in all sorts of different places. "It's just about taking advantage of the people around you and growing your network as much as you can," explains Dr. Lubrano.